Wow, doesn't this look like fun! As a photographer and student of interactive media, I thought Photographers i (clever name) was worth a mention. The pilot edition of this interactive magazine is available for 1.99 at the App Store for iPads and other tablets.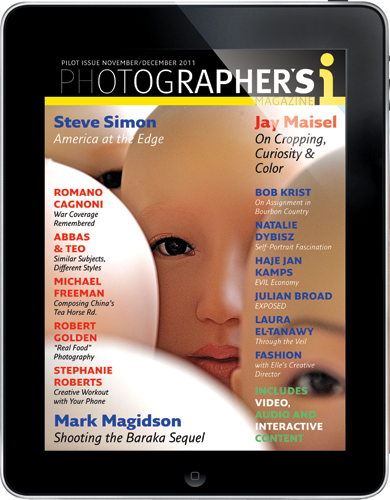 There are interviews (with some pretty big names!), audio clips, and big beautiful HD videos that allow one to view a photographer's process. You can literally "see the story." And for those who are partial to a more traditional magazine experience, there are still slideshows (swiping a finger…like turning a page!)
It's a bit funny to me how we still call an app like this a magazine, even though in the traditional sense it's quite different. It's more like television, but it's not that either. I suppose it's just somewhere in that overarching term of  "interactive media."
So here's a video intro to the app for anyone who's interested:
Let me know if you've downloaded Photographers i and if you'd recommend it!